This page explains the JEMRF Wireless Temperature and Humidity Sensor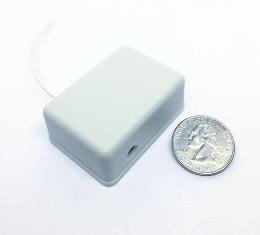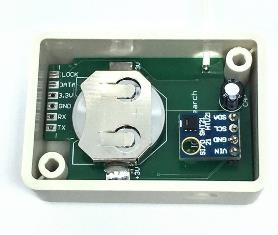 Product Description
Wireless temperature and humidity sensor with high degree of accuracy (~0.3°C and +-2% Humidity). Very low power and can last 6 months on a single CR2032 coin cell battery when configured to send readings every 10 minutes.
Installation
Install battery and close enclosure as described here.
Sensor testing
Product Specifications
~0.3°C accuracy
+-2% Humidity
Sensirion based SHT21 sensor
Sensor (SHT21) Performance:
Electrical
2.2-3.3V
Powered by CR2032 coin cell battery
Can be externally powered by soldering to the 3V3 and GND through holes on the PCB
Functional
Standard JemRF wireless sensor, refer RF Communications section for all the details
If the RF module cannot find the BME280 sensor then it will report back (NOSENSOR). Check the wiring and power to the BME280 module.
Messaging details
TMPA99.99 (temperature reading format)
HUM99.99 (temperature reading format)
HTU21 (the SHT21 command requests the sensor to transmit a temperature and humidity reading)
Physical
51mm x 36mm x 20mm case size (2" x 1.42" x .79")
Default configuration
Type 10 (Type 10 sensor)
NOMSG2 (Sends 2 temperature & humidity readings every cycle)
INTVL005 (Sends a temperature reading every 5 minutes)
CYCLE (put the device into a timed sleep cycle)
Refer device configuration for more details